By Holly Austin Smith — From her column Speaking Out in the Washington Times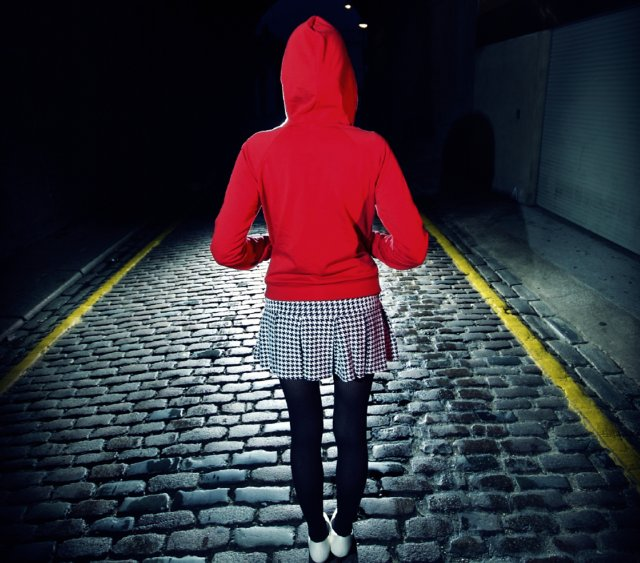 WASHINGTON, August 1, 2012 – "When I was child, I loved to act," Stacy said, "I actually went to California and trained with actress Penny Johnson for a summer."
From movies to plays, Stacy said she loved to watch the dramatic arts.   Her first play in middle school sparked her dreams to act. Stacy entered several competitions which led to her student internship with American actress Penny Johnson.
Raised in the DC metropolitan area from age five, Stacy's dreams to become an actress were cut short at the age of 19.  After accepting a ride from an elderly man in the neighborhood, Stacy was held at gunpoint.
She explains how the man's gentle and grandpa-like personality suddenly changed to a violent nature.  Stacy said she learned that the man had been paid by a trafficker to abduct her.
In an interview with KSAT in San Antonio, TX, Stacy stated, "They had followed me for quite some time and knew my pattern so they knew where I lived and threatened my family if I did not go…When I was told they knew what street I lived on and [that I] had a child, it felt more real to me than ever before."
Stacy said she spent the following two years working for a man who treated her as a slave.
"Manipulation and physical abuse kept me at his beck and call," Stacy said, "until one day I decided I couldn't take anymore."
Just before her 21st birthday, Stacy escaped "the life."
It took me ten years," Stacy said, "ten years after leaving the life to realize and understand that I had been a victim of sex trafficking."
Stacy turned this realization into a dramatization called "10 Years and 1 Day."  This spoken word performance includes her testimony of personal torments and her witness to child victims of sex trafficking.
Stacy not only captivates audiences with this performance, but she inspires them.
"The performing arts can be a powerful tool in creating public awareness," Stacy said, "bold words and heart-wrenching performances can certainly ignite a call to action."
"While it took ten years to fully understand that I was a victim, it only took me one day to believe in the sun," stated Stacy in an interview with Fox 13 News in Salt Lake City, UT, "God was in the light all along [and] I escaped my prison while all the vampires were asleep."
Stacy has been asked to perform "10 Years and 1 Day" at several events hosted by such organizations as the U.S. Department of Justice, Shared Hope International, The Araminta Freedom Initiative, and the Baltimore FBI Special Task Force, among others.
Marlene Carson, Founder of Rahab's Hideaway, stated the following after watching Stacy's performance at the Office of Juvenile Justice and Delinquency Prevention Office (OJJDP) Trafficking in Persons Symposium in April 2012:
"It was like she was there when I was being trafficked.  I [have] never been able to precisely describe what happened to me as a victim of domestic minor trafficking; however, Stacy has used her creative ability to depict what victims/survivors couldn't find the words to say."
Nancy Winston, Senior Director and Board Member of Shared Hope International, invited Stacy to perform at an event which was held at the University of Texas in San Antonio.
"I have seen Stacy['s]…dramatic performance deliver a message with the impact that an hour lecture could not," Nancy stated, "Her brief powerful performance delivered the message full force and was talked about long afterwards. She is an amazing spokeswoman for our movement."
Today, Stacy dedicates herself not only to her own recovery but to the recovery of other survivors through the performing arts.  Through her organization, Who is Stolen, Stacy offers survivors a platform to tell their stories for audiences across the country.
As stated on the website, the mission of Stacy's organization is to represent "a voice, a face, and a story behind the truth of sex trafficking in America."
In a brand-new production titled, Stolen: from Playgrounds to Streetlights, Stacy brings to life the stories of several survivors of sex trafficking and prostitution.
"Each of their soul-stirring monologues will take you from tragedy to triumph," Stacy said, "You won't be able to turn away [from the stage]."
"It's a great opportunity to clear up common misconceptions people have on the issue of sex trafficking," stated Shamere McKenzie, survivor speaker and Policy Assistant with Shared Hope International, "I'm grateful for the opportunity to use my talent as an actress."
Stolen: from Playgrounds to Streetlights will debut this Saturday, August 4th, at the ATLAS Performing Arts Center in Washington, DC.  Show times are 3pm and 8pm.  Click here to purchase your tickets now.
Click here to request Stacy as a performer or motivational speaker at your next event.